Ellen Martin: Red Bank's Art Hotel Visionary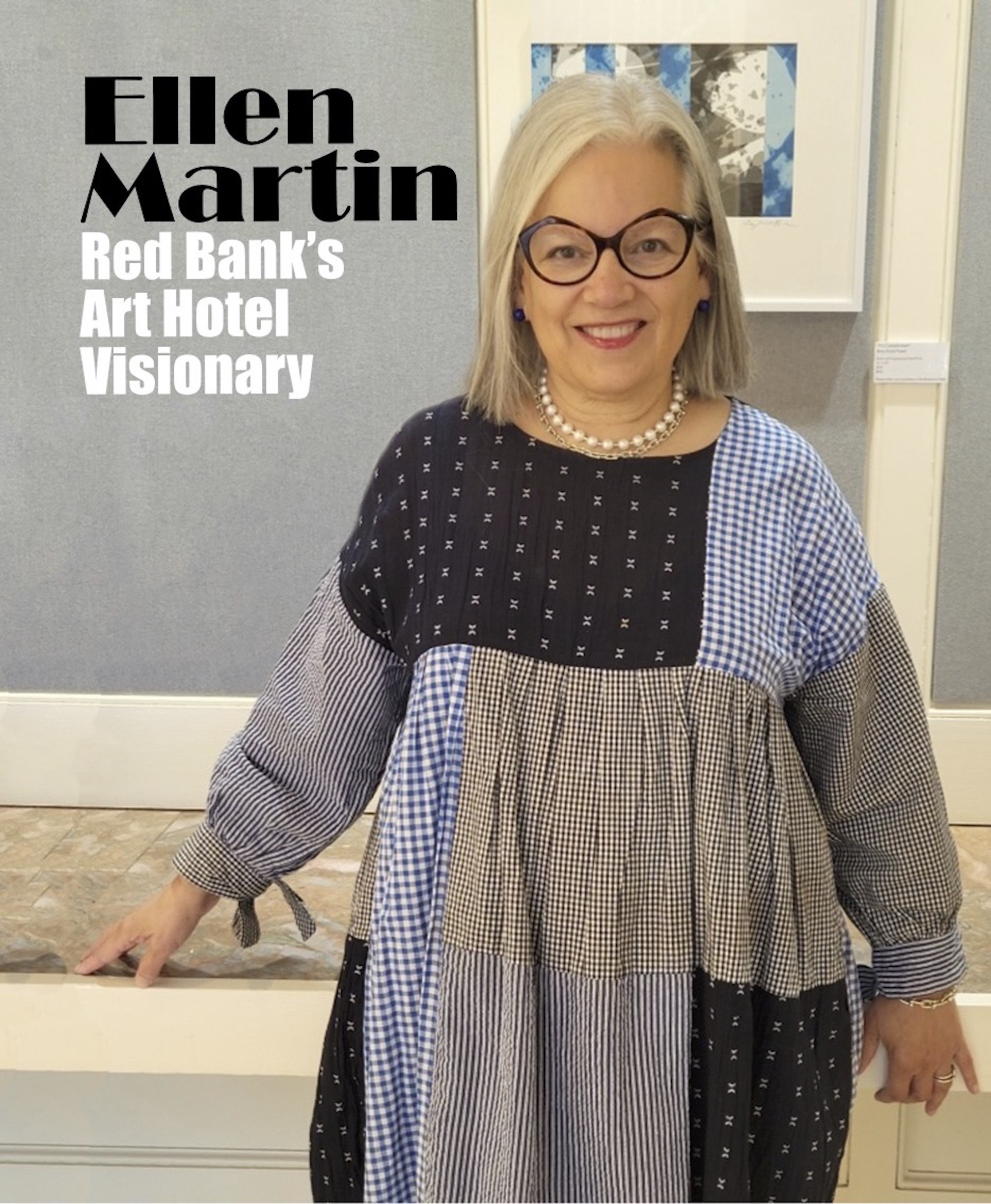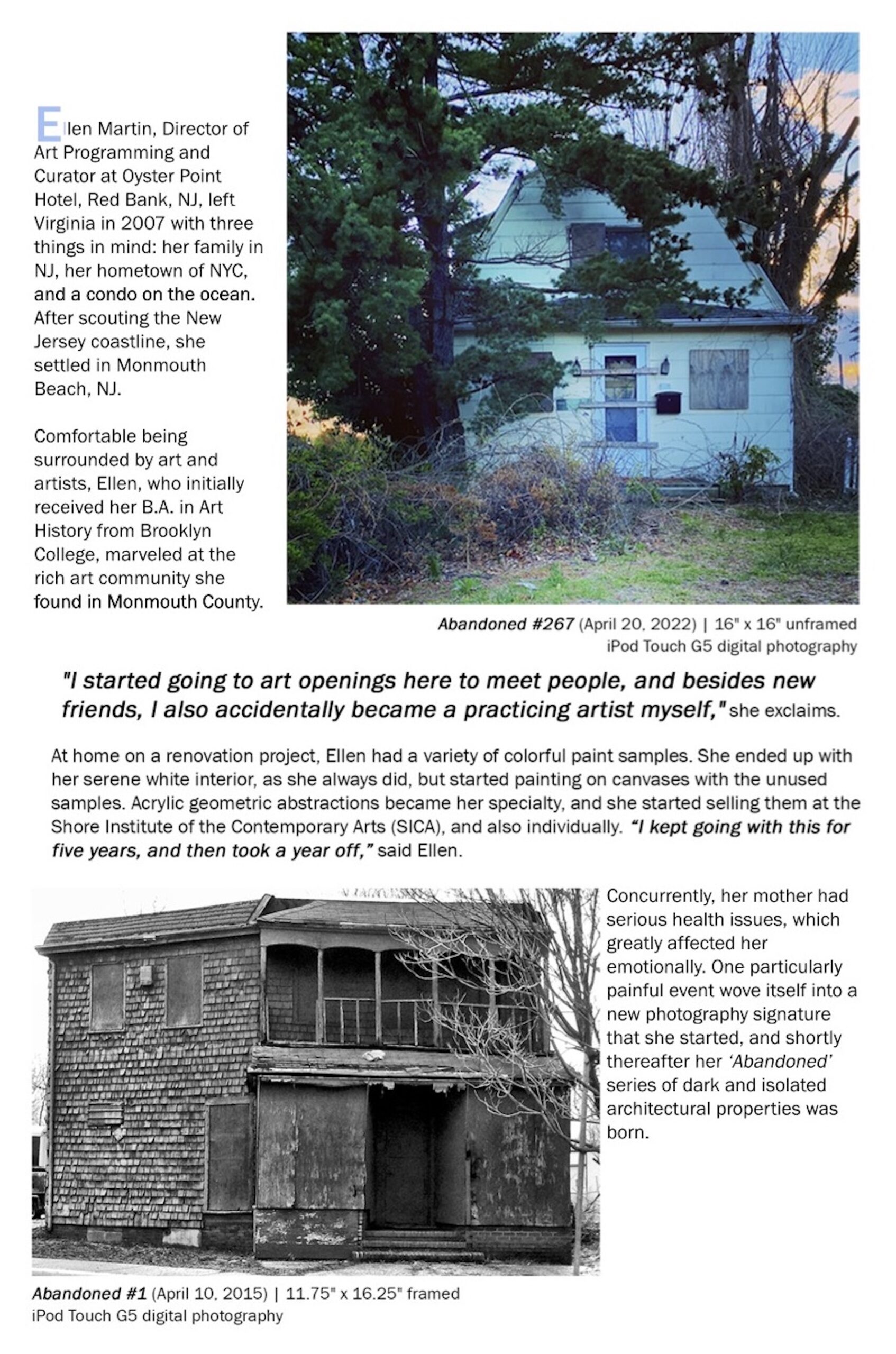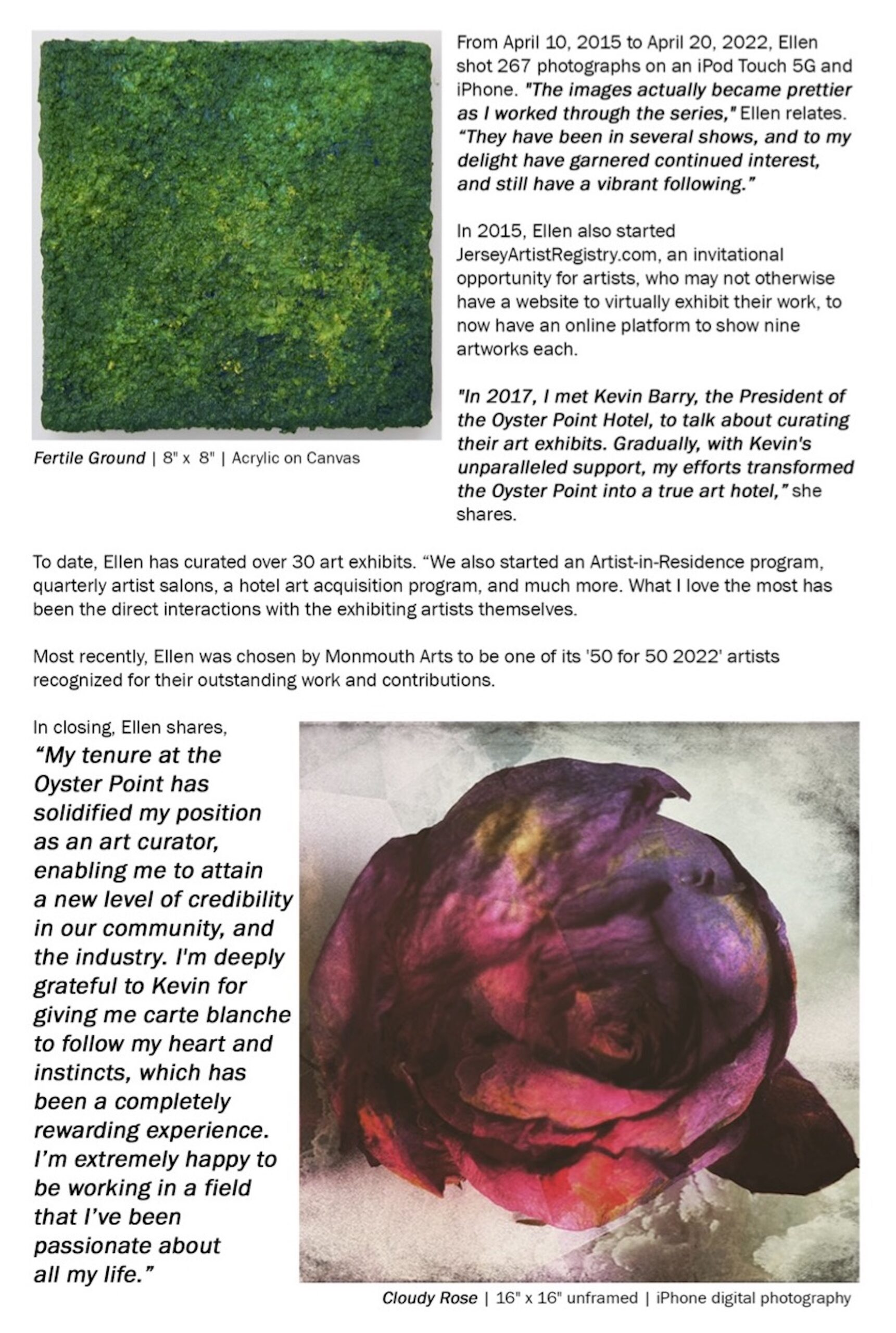 Oyster Point Hotel hosts first Artist in Residence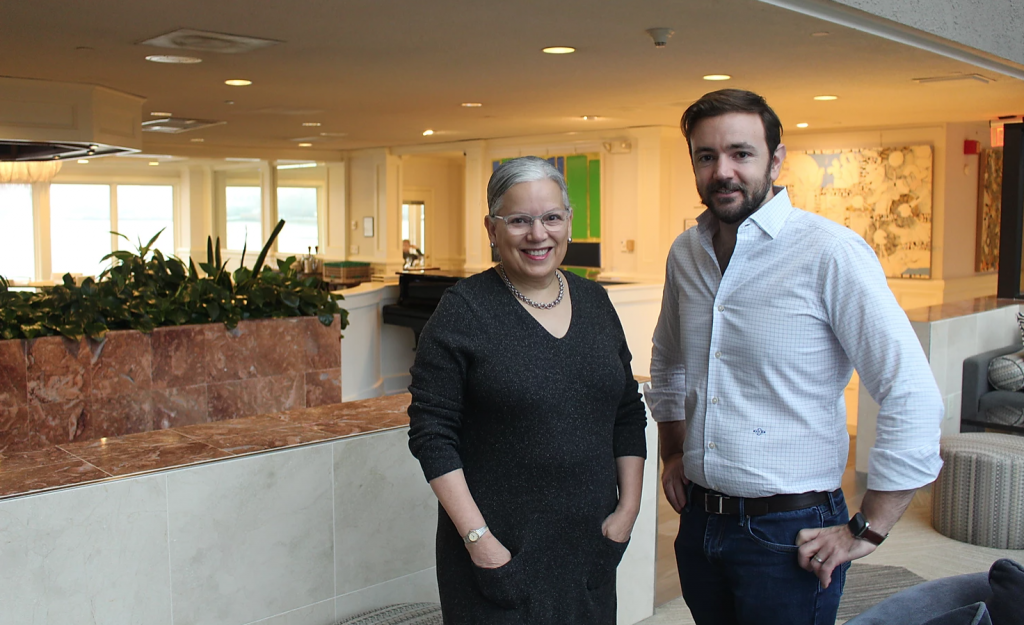 By Margaret Goddard
27 Mar 2020
This article about The Oyster Point Hotel's new Artist in Residence program was originally scheduled for publication in March; we're pleased that we're able to share it now, with some updates. Although COVID-19 forced The Oyster Point Hotel to close temporarily, the hotel will begin a phased reopening on June 1st, with plans to continue holding art-related events when it's safe to do so.
In October 2019, Oyster Point Gallery curator Ellen Martin received a call about a local artist, Don Harger, who was moving and was looking for somewhere to store his work. Ellen knew The Oyster Point Hotel Vice President Kevin Barry was looking to replace the giclée prints in his hotel rooms, so Ellen suggested that Don's work be installed in the rooms. The two agreed that original artwork would step up the guest experience at the hotel significantly. Taking it a step further, Ellen proposed the idea that Harger could be the first artist for an Artist in Residence program at the Oyster Point. Kevin immediately said yes. Earlier this year they installed Don's paintings in the lobby, hallways, bar, and lounge for three months, as well as in 36 of 56 hotel rooms for the remainder of 2020.
This focus on original art is not new for the Oyster Point. The upscale riverside hotel has hosted art exhibits for 11 years, with Ellen serving as curator since late 2017. Kevin is always looking for ways to bring the community into the hotel and for the guests to "get wrapped up in the area" during their stay. It all began when he was visiting his sister in Abu Dhabi and noticed that the hotel he was staying in was exhibiting original Picasso's. He was amazed by how the experience differed from being in a museum—it was casual, with no lines—and he knew he wanted to do the same kind of thing at Oyster Point, where he'd be able to show art on a big scale for the community to enjoy.
Big scale, indeed. There are 70 Don Harger pieces housed at Oyster Point right now, and some of them are multi-paneled. "In just a month, and with a lot of work, we became an art hotel," Kevin says. He and Ellen make a great team. "The level of support [Kevin has] shown during this experience has been unparalleled," says Ellen. "He provides an important platform in the community by allowing me to put on art shows and inviting the artists into his hotel. It's become an invaluable alternative space in Monmouth County."
For regional artists, the new Artist in Residence program is an exceptional opportunity to both sell one's work and gain visibility. Don has his name on the hotel's front doors. His art will be viewed by guests during their stay for the entire year and by lobby, bar, and lounge visitors during his extended exhibit. His work is featured for sale on The Art Store on Oyster Point's website. Quarterly "Artists' Meet and Mix" events will be held where Don, hotel guests, the community, and artists who have exhibited at the hotel in the past will come together for conversation. The first "Meet and Mix" of the year was held in the hotel's atrium in early March, following tours of select hotel rooms led by Ellen.
Don's body of work consists of both textured, exuberant paintings and geometric pairings of just one or two colors, or "nonobjective minimals," as Ellen calls them. To make all of his pieces, Don cleans his own oils and mixes paint colors himself to get his desired consistency and hue. Ellen found homes for both styles in the hotel's common and private spaces. Don's pieces stand out and have a voice while at the same time fitting aesthetically in the modern hotel rooms. One guest contacted Harger; they had enjoyed the piece in their hotel room and wanted him to do a commission.
It took quite a bit of time to sort out the hotel's first installation of original art in the rooms. Don, Kevin, and Ellen carefully moved the work from Don's studio to the hotel and sorted through it in the hallway of the hotel. The installation required added security measures, which were adeptly handled by the hotel staff. One would think it would be challenging to go through all of Don's artwork and find its proper home in the hotel. But Ellen says, "Sometimes the art just places itself."
Check out The Oyster Point Hotel website's Art Store, where you can view and shop Don Harger's pieces online. Be sure to follow Oyster Point on Instagram, Facebook, or Twitter for updates on artist and curator tours, quarterly "Artists' Meet and Mix" events, and exhibits. Oyster Point will release a call for entry for next year's Artist in Residence in June.

2020: Alternative Experiences – Industry Magazine
how one luxury red bank hotel supports the town's art scene by displaying local work throughout its boutique space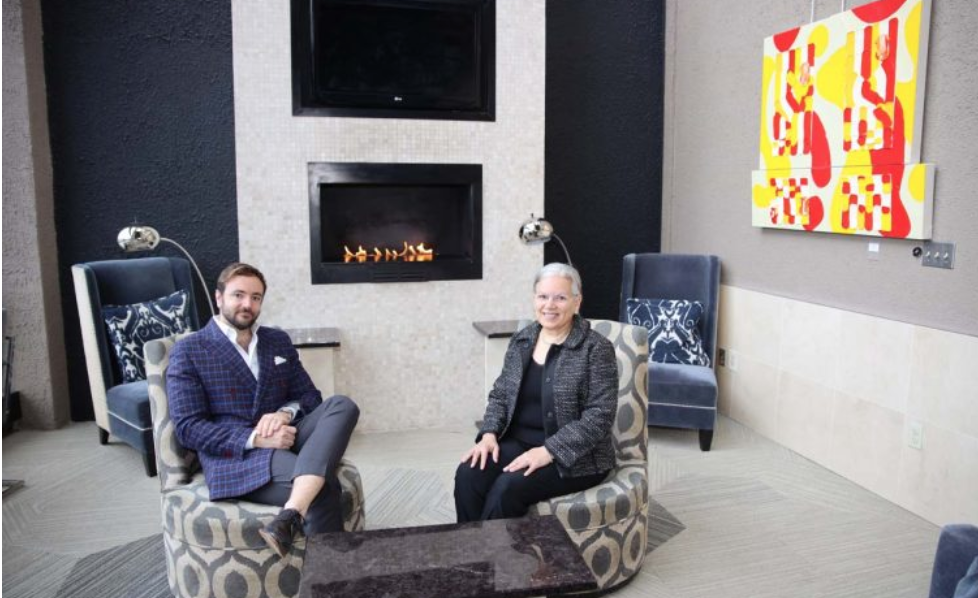 by samantha faragalli younghans • photos by tom zapcic
Kevin Barry was working at a hotel in Boston post college in 2008 when he got the call to return home to New Jersey to begin working for the family business. The hospitality guru is second generation, as his father acquired Molly Pitcher Inn in 1992 and The Oyster Point Hotel in 1996. Today, Barry serves as the vice president of both.
Before he dove into day to day duties at each establishment and following a sweeping renovation of the latter hotel over a decade ago Barry was visiting his sister in Dubai, and became inspired by an Abu Dhabi hotel art gallery. Real Picasso paintings graced its lobby, and he was impressed with this alternative venue of display.
He came home with the idea of bringing local artist's work into The Oyster Point Hotel to support Red Bank's popular art scene. Located directly on the Navesink River, the hotel was "a natural fit for incorporating artists, and the project actually took off immediately."
In fact, the concept has been successful for the past eleven years, and is still growing. Barry collaborates with his Curator, Ellen Martin, on a daily basis, and the two have executed a number of projects, including his idea of "The Oyster Point Exhibition Program," in which a new artist's work is displayed in the lobby every two months each exhibit introduced with a cocktail party and an artist meet and greet.
Perhaps the pair's most intriguing new venture is the "Artist in Residence" program, in which one visionary's work is displayed in all 56 guest rooms of the hotel for an entire year. For 2020, guests as well as outside visitors (free room tours are available) will be able to enjoy the non-objective abstract paintings of Don Harger, who has solo exhibited in several New Jersey galleries as well as in Los Angeles, Santa Monica, and Leipzig, Germany.
"Art is something that's very personal, so to have the opportunity to spend the night with it is really cool," Barry enthused.
Due to interest in the work expressed by guests during and after stays, the duo also recently debuted " e Art Store," an online platform showing for sale work that was previously displayed at the hotel. "It's a nice thing and a good opportunity for the artists and us to continue exhibits even after they've been taken down," he shared, adding that his these are just a few ways of staying unique and different in the hospitality space. "We've been trying to keep things fresh and exciting while staying on top of trends part of the reason why we're now considered an 'art hotel,' which is exciting for us."
Martin and Barry are also attempting to intrigue millennials, particularly, by frequently switching things up in terms of types of work displayed. "When you come here a year later or even a few months later, it's different…not always the exact same thing," he explained.
As for the future, he said, the hotel is "looking forward to seeing how we're going to update and change our current position," whether by incorporating sculptures and performances or potentially bringing art over to its sister property. The demarcation would be that e Oyster Point Hotel would focus on modern and contemporary pieces, while Molly Pitcher Inn might embrace more traditional work. "It'd be a little more challenging, but I think we'd definitely be up to it if we found the right t," he said.
Today, Barry is simply proud of the ambiance he's created at this luxury boutique space, and wants guests and locals to enjoy every minute.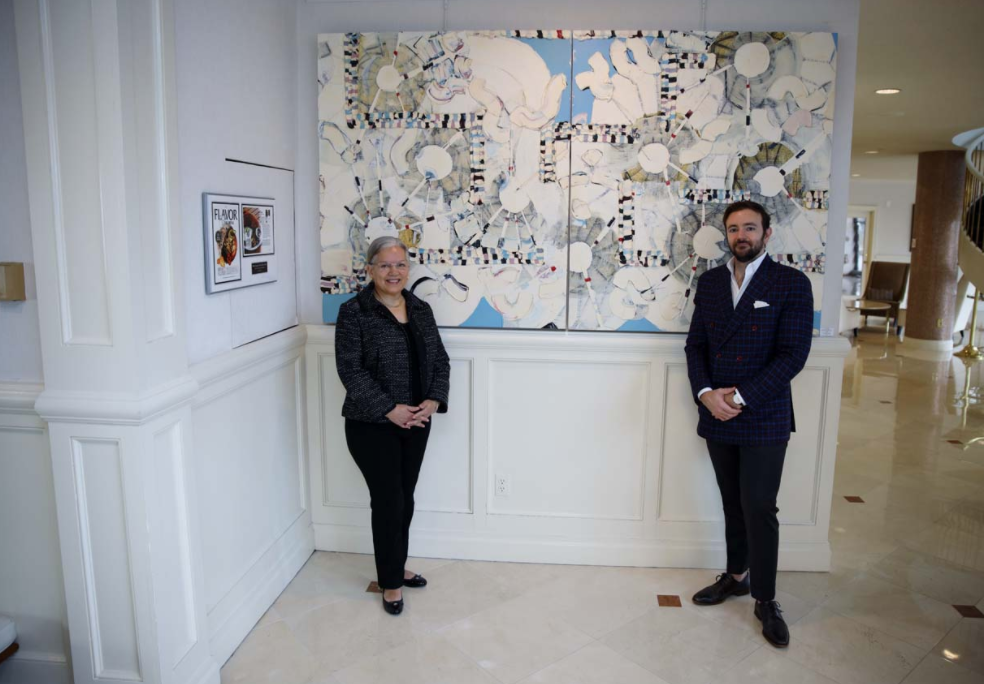 "It's not a pushy gallery in which you walk nervously and get the feeling that you are being compelled to buy," he said. "Instead, visitors are here to enjoy the hotel, have a drink, look at the views, and chat, but at the same time there's this remarkable art surrounding them."
The Oyster Point Hotel
146 Bodman Place, Red Bank / 732.639.5243



2017: cWOW Merit Award
City Without Walls proudly presents METRO 31 [redux], a small works exhibition on view Saturday, April 1, 2017 – Saturday, June 3, 2017. The group exhibition features 58 works by 48 artists chosen by three jurors: Margaret O'Reilly, Executive Director, New Jersey State Museum, Larry Ossei-Mensah, Independent Curator, Co-Founder of ARTNOIR and Siddhartha Mitter, Culture Journalist and Village Voice Contributor.
This year' s cWOW Metro 31 Award Winners are Wendy Letven, who received the cWOW Excellence Award, Onnie C. Strother and Ellen Martin who both received cWOW Merit Awards.
cWOW's annual Metro Show was created over 30 years ago to celebrate the work of talented artists from the metropolitan region. We are delighted to bring this exciting event back into fruition.
Featured artists include: Ann Rosen, Beth Biderman, Bob Ricciotti, Brad Terhune, Candice Yates, Carol Cassel Baker, Cortney Torres, Dan McCormack, Danielle Scott, David James, David Rapoport, Dominique Vitali, Eleni Litt, Ellen Martin, Georgie Morel, Geri Hahn, Gregg Rosen, James Long, Jason Norton, Jean Foos, Jennifer Coard, Jennifer Mack-Watkins, Joseph O'Neal, Judith A. Lieberman, Judy Wukitsch, Kilolo Kumanyika, Laura Bell, Lorenzo Irico, Luisa Pinzon, Maggie Fehr, Marco Muñoz Jaramillo, Marta Tchorzewska, Mary A. McKay, Michael Endy, Nancy Tompkins, Nell Painter, Onnie C. Strother, Patricia A. Bender, Paul Chinnery, Peter Tilgner, Richard Rappleyea, Robert Kogge, Sandra Bacchi, Sergio Villamizar, Vanessa Lucas, Wendy Letven, Zellie Imani and Zenna Broomer.
Metro 31 [redux] is on view at City Without Walls through June 3, 2017 and will travel to B. Beamesderfer Gallery, 1978 Arts Center, Ramapo College of New Jersey Potter Library Galleries, and other sites through 2018.
About City Without Walls
City Without Walls (cWOW) is New Jersey's oldest alternative art space. Our mission is to advance the careers of artists, expand the audience for contemporary art and provide opportunities for arts education and community engagement.
City Without Walls is the grateful recipient of donations and grant support from The Geraldine R. Dodge Foundation, the New Jersey State Council on the Arts, the City of Newark, and individual contributors. City Without Walls is located at 6 Crawford Street in Newark's historic Lincoln Park neighborhood. The gallery is open Wednesday through Saturday, 12—6pm and by appointment.
Published May 19, 2017

2016: Women Paint Women
As Ellen Martin tells it, "I started the Jersey Artist Registry (JAR), an online gallery, in 2013 to showcase the talent of New Jersey artists in a way that was immediately visually impactful and accessible (not three or four menus down)."
It's an endeavor that led the Monmouth Beach painter, photographer and mixed-media specialist to mount her first group show of JAR artists at Asbury Park's intimately scaled Hotel Tides in 2015. With the success of that show, and a move to the more expansive environs of Red Bank's Oyster Point Hotel, Martin professes that her original thought was to again open the next exhibit to all artists, "but then thought I should do what I could to tip the balance of the male-dominated art world."
The result is the Martin-curated installation Women Paint Women, in which the work of seven emerging and established female painters from the Garden State will be displayed on the walls and walkways of the riverfront hotel's lobby and atrium. On view through June 26, the exhibit opens tonight with a free public-welcome reception from 7 to 9 p.m.
Further tying the exhibit together is a common theme, in which the subjects of the pieces are "women engaged in various occupations, states of being and everyday activities."
"It was important to me to give women artists a chance to have an exhibit all to themselves," explains Martin, citing a recent New York Times article on major woman-only shows in New York and Los Angeles as affirmation that "I'm on trend."
"I also wanted to highlight the difference between how women paint women and how men paint women," she adds. "Yes, it's true that the nude is a staple of western art, but women artists also paint women in a wider range of roles and occupations, from a portrait of Virginia Woolf by Shoshana Kertesz, to a black woman archer by Pat Hutchinson. You'll see that variety here."
Featured in the group show are paintings by Karissa Harvey, Kathleen Heron, Pat Hutchinson, Shoshana Kertesz, Sharon Sayegh, Elizabeth Sowell-Zak, and Kathleen Tobin — creative women who hail from such Monmouth County communities as Farmingdale and Belmar, as well as New Brunswick, West Orange and other Garden State locales.
The veteran artists' representative and consultant — who (as detailed hereon redbankgreen) was involved with the outdoor HEADS installation that turned heads back in the summer of 2012 — offers a special shout-out to a fellow female artist and curator: Gerda Liebmann, the Swiss-born multimedia specialist who coordinates the ongoing series of art installations at the Oyster Point.
"It's an alternative space that has become a significant art venue on the Jersey Shore," says Martin of the hotel that previously hosted the nature photography of Colin Seitz and other artists.
Complimentary hors d'oeuvres will be served at tonight's reception, and free or valet parking is available in the hotel's lot at the foot of Bodman Place, off Riverside Avenue.
Published May 5, 2016

2016: Painting Women Exhibit
RED BANK – "Women Paint Women," is a new group exhibition of paintings by emerging and established artists Karissa Harvey, Kathleen Heron, Pat Hutchinson, Shoshana Kertesz, Sharon Sayegh, Elaine Shor, Elizabeth Sowell-Zak and Kathleen Tobin.
"It was important to me to give women artists a chance to have an exhibit all to themselves to help tip the balance in the male-dominated art world," said Ellen Martin, curator. "All of these talented women have produced beautiful work."
Martin said she wanted to highlight the difference between how women paint women and how men paint women. "Yes, it's true that the nude is a staple of Western Art," she said, "but women artists also paint women in a wider range of roles and occupations, from a portrait of Virginia Woolf by Shoshana Kertesz to a black woman archer by Pat Hutchinson. You'll see that variety here."
The artists come from cities all over the state, including Belmar, New Brunswick, Farmingdale and West Orange. They all paint women engaged in various occupations, states of being and everyday activities.
"I paint women who inspire me through their strength, sensitivity, creativity and wisdom," said Shoshana Kertesz, who has painted famous women writers. "I paint women to bring to attention the character behind the facial and physical makeup and the beauty that shines from within. Women come in all emotional and intellectual colors that are unique to them, and I want to emphasize this aspect by foregoing feminine stereotypes."
Published April 27, 2016
---