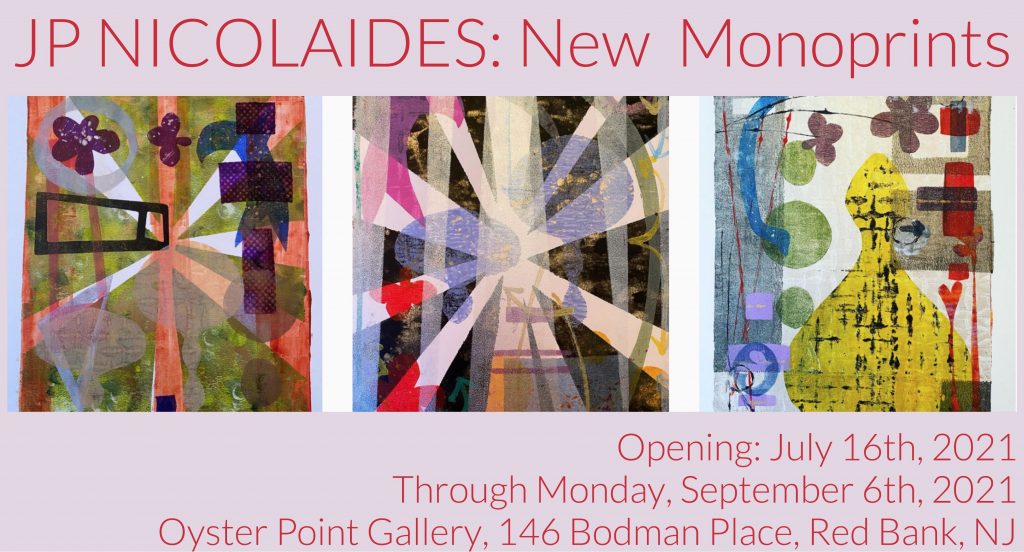 JP NICOLAIDES: NEW MONOPRINTS
The Oyster Point Gallery is pleased to introduce the work of artist JP Nicolaides in his first solo exhibit "JP Nicolaides: Monoprints." JP Nicolaides was born in Astoria, Queens in 1964 and moved to Red Bank, NJ in 1988 where he lives with his husband Ed Zipprich. After working in banking for thirty-years, he retired in 2020.
Unlike many people facing retirement JP knew what he wanted to do: make art. A close friend, Ann Briton, suggested he explore print making. Ann had long since moved to Ireland, but she and JP became friends when she lived in NJ and ran the shop "Aine" in Fair Haven, where she sold exclusive award-winning American crafts. Zipprich grew up in the printing business and provided inspiration, support and some surprising additions to the tools used to make the art.
Both Kevin Barry, the Oyster Point VP, and Ellen Martin, the Oyster Point Curator are pleased to be introducing JP and his work. "We love that we do not only exhibit established artists but also introduce local artists to our guests and the community. It's another way we can strengthen and support New Jersey artists in the Oyster Point Hotel," said Barry. "I was introduced to JP's work through a member of our installation team, Nancy Keyes, and immediately knew I wanted to show his work in the Hotel. It's been a great couple of months of working closely with him to bring it to fruition," added Martin.
JP started creating monoprint paintings and fell in love with the process. Each monoprint is an original and singular work of art. He hand-cuts his own shapes in the process of building layers and reuses certain shapes. It's this repetition of shapes throughout his body of work that gives it its unique look. For texture, he uses various found items to give new life to items that would otherwise be discarded. His colors are sometimes muted, sometimes vibrant, and he says, "Contrasting colors, values and shapes are important to me."
As with many artists, the act of creation has had a profound effect on JP's life. "It has proven to be something of a salvation to me during the darkest days of the pandemic. I witnessed this outlet for creative energy giving me joy and peace—no mean feat as the Covid losses, very near and far, continued to viciously mount. Thirty years in a corporate career helped me and my family enjoy many wonderful things. We know how lucky we are. This exploration of creativity and expression of imagination makes me feel even luckier," says JP.
The world of art was not entirely new to JP. His parents' best friends were art dealers in the city, and he grew up loving their collections of paintings, sculptures, glass, and antiquities. One of his uncles designed and sold leather goods both in England and the US. Another uncle was an accomplished decorative metalworker. JP grew up loving museums, design, and beautiful things.
JP draws inspiration from everywhere, but Miro, Klee, Klimt, and Kahlo are especially important to him. Miro and Klee for the shapes and lighthearted nature of their work. Klimt for the magical quality of the work and Kahlo for her power, and inner strength in the face of great adversity. He feels that she could laugh at herself and admires this quality of being self-deprecating. JP doesn't want to be that artist who takes himself too seriously. "You gotta have a sense of humor to get through anything," he said.
JP numbers most of his pieces but does occasionally give them interesting titles, such as all about my mother, the title of a Pedro Almodóvar movie, and godzilla and faux kanji. You can learn more about these intriguing titles when you meet JP at our opening.
This exhibit is free and open to the public. It will open on Friday, July 16th, 2021, with a cocktail reception from 6 – 8 p.m. and run through September 6th. The Oyster Point Gallery is located at 146 Bodman Place, Red Bank, NJ, USA. There is free parking in our lot and valet service is available.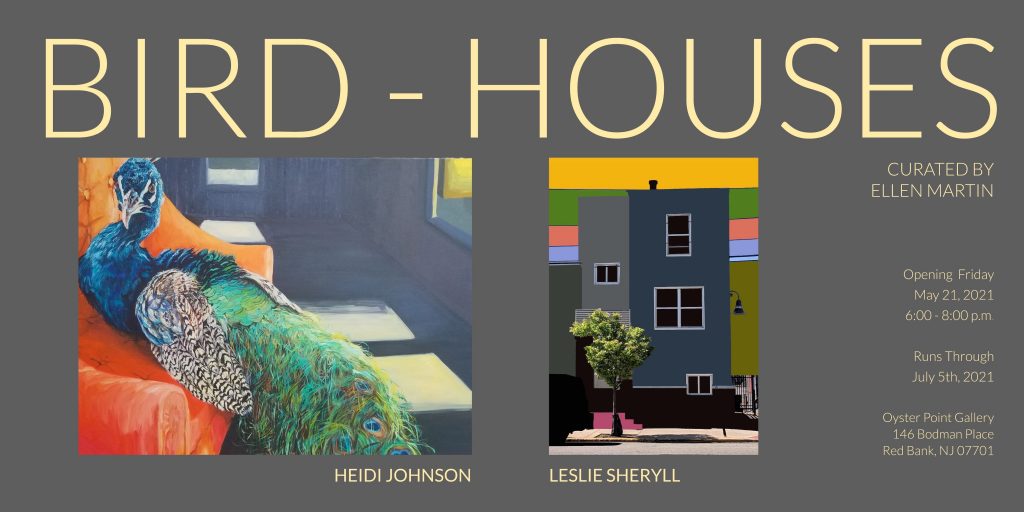 BIRD-HOUSES: HEIDI L. JOHNSON & LESLIE SHERYLL
Strange bedfellows or close friends?
Lush large colorful paintings by Heidi L. Johnson, stuffed with exotic birds and animals cohabiting inside and out, stand in contrast to stark images of Jersey City house exteriors by photographer and artist Leslie Sheryll. In both, human beings – although not the results of their actions – are virtually nowhere to be found.
Heidi L. Johnson and Leslie Sheryll have each produced work with strong points of view. By bringing them together I wanted something new to emerge. Although neither artist knew at the outset what I had in mind, it was clear to me.
In Heidi's work, with time and space flattened as if in a dream, images have been created that are surreal and confounding. In Leslie's work, pre-pandemic and pandemic times are flattened into each image. Certain elements have been 'redacted' and abstracted to create house facades reflective of isolation.
Whether viewed singularly or in dialogue with each other these works are abundant in nuances and visual richness. Heidi L. Johnson lives and works in Patterson, NY. Leslie Sheryll lives and works in Jersey City, NJ. The exhibition will run through Monday, July 5th, 2021.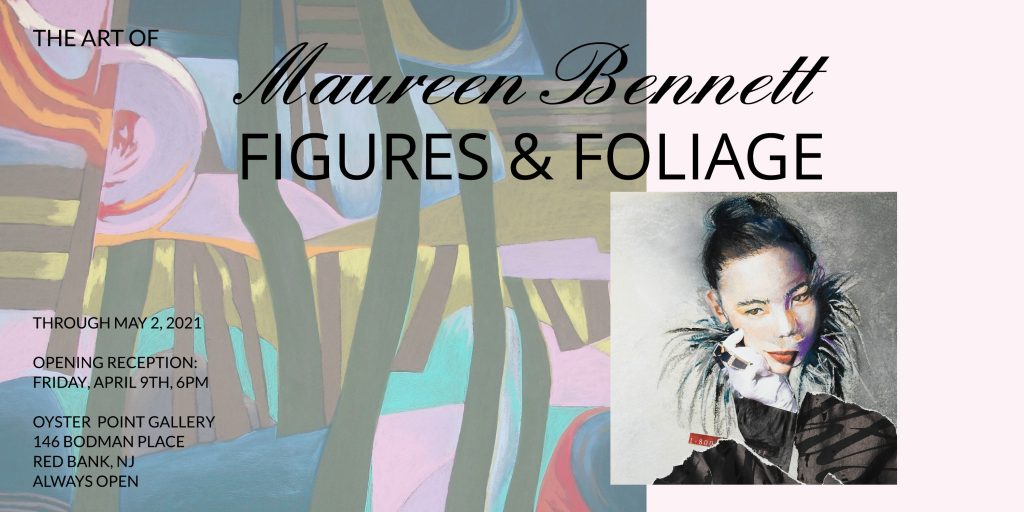 MAUREEN BENNETT: FIGURES & FOLIAGE
Even before you enter the Oyster Point Hotel, you'll see Maureen Bennett's name on the door. She is a 2021 Oyster Point Hotel Artist in Residence and her solo exhibition: Maureen Bennett – Figures & Foliage runs through Sunday, May 2, 2021. The live opening will be on Friday, April 9th from 6 – 8 p.m. and you can get timed tickets through eventbrite.
"Love That Girl 1" which you'll notice as you check into the Hotel is one of Maureen Bennett's shop girl series which evolved from her working as an art director for Allied Graphic Arts, and as a freelancer. Many of the images in this beguiling series started as photos of a model who was a young teen at the time. Another piece, "Shop Girl 1," has an intriguing band hugging the model's head. It says Survival Guide. The Survival Guide is what you needed to know when you were buying a diamond. Another piece, "I-800-OFF," refers to one of Maureen's former client's phone number. That client was a well-known Fifth Avenue jeweler.
All of these ladies reference the lap of luxury or is it "Lapse of Luxury," another of Maureen's pieces in this series. As you walk deeper into the Hotel, perhaps to dine in the Pearl Atrium dining room, you'll notice some woodland scenes – "Beyond the Backyard" – a large pastel painting under glass, being one of them. This is a warm and welcoming piece, but her graphite tree series on the second floor present another perspective.
Maureen can work in one medium at a time, but she prefers working in mixed media. A piece may start out as a photograph but will evolve through the use of watercolor, graphite, pastel or even wire and jewels. "My pieces start out as archival prints and I work on more than one piece at a time. I keep the first piece of a series hanging as I work on subsequent pieces, so the work gets more complex as the series develops," says Maureen.
Maureen was selected as a 2021 Artist in Residence by Kevin Barry, the Oyster Point Hotel's Vice President and Ellen Martin, the Oyster Point Hotel's Curator. As an AIR, Maureen's work is hanging in the fifth floor guest rooms of the Hotel.
Maureen Bennett has had an interesting life. She is an artist, but she is also a community activist. She has been awarded numerous grants to support art as a transformative force for social change. She designs and implements creativity workshops about education, earth awareness, wellness, nonviolence and peace. Maureen created the global traveling art project, Peace By Piece, which is ongoing. The project involves thousands of participants creating canvases and writings that express personal statements about peace. She is also the recipient of the NYC Circle of Mercy Award.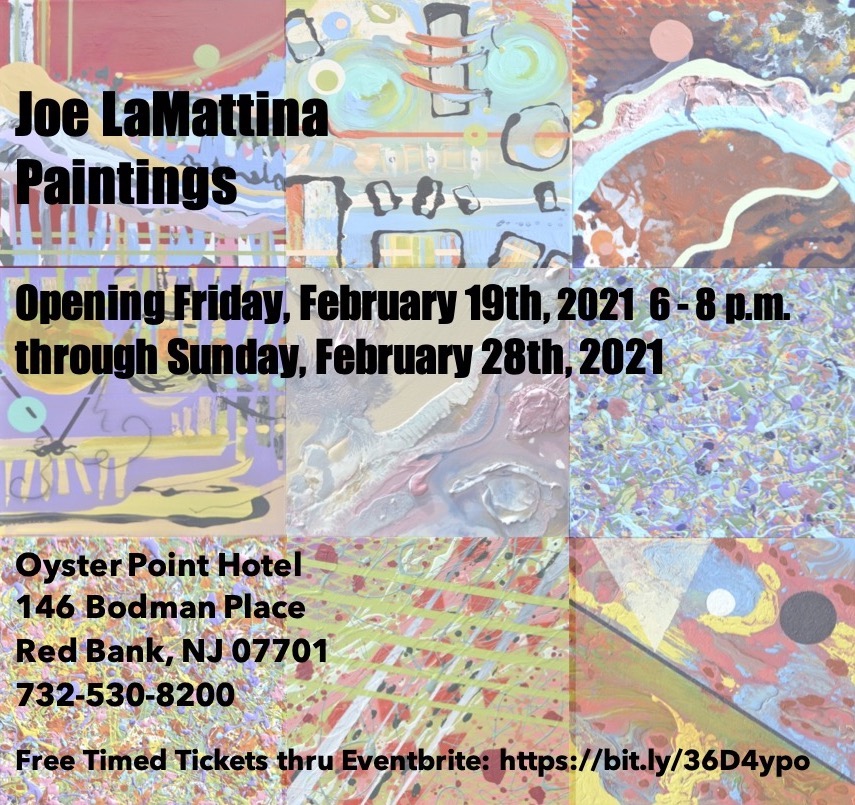 JOE LAMATTINA: PAINTINGS
New Jersey painter Joe LaMattina is a 2021 Artist in Residence (AIR) at the Oyster Point Hotel. The AIR was started in late 2019 by Kevin Barry and Ellen Martin. Through the program original art is installed in the Oyster Point guest rooms, and the artist is awarded a one-month long exhibition in the Hotel's public spaces. The program provides the art community with yet another alternative venue while also enriching the guest experience.
Joe LaMattina's exuberant abstract paintings have been installed on the fourth floor of the Hotel. His exhibit was held from February 2nd – March 15th with a live opening on Friday, February 19th from 6 – 8:00 p.m.
Joe's work is intensely personal and material driven. He can best be described as a process artist who creates as he goes – without a plan. The work develops as he manipulates his materials. We have chosen to highlight his abstract work with the occasional representational painting thrown in for good measure. The abstract paintings are dramatic, energetic and laden with paints and other materials. Sometimes they look like eruptions and other times like oozing molten lava. Colors can be bright or earthy. They speak to the mysteries of the earth and mind. They deserve your attention.
Private tours of the guest rooms may be arranged by text message to 703-868-2833.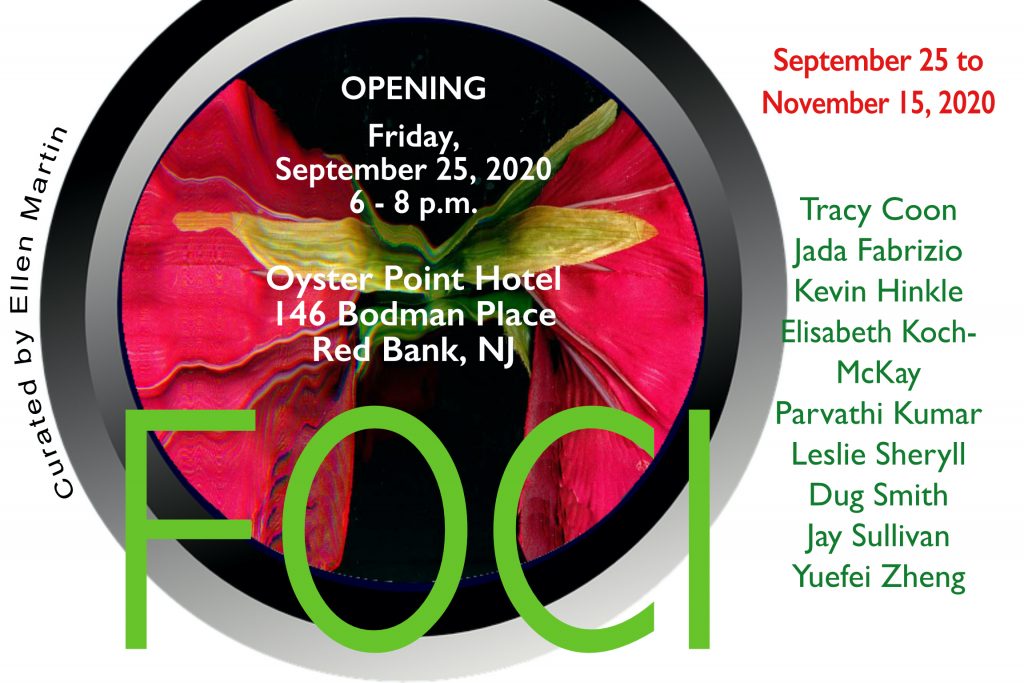 2020: FOCI
The journey of photograph from the earliest photo in 1826 to today has been one of a process laden with chemicals and long wait times to a time where pressing a button can record hundreds of images in an instant.
Through the 1800s techniques came at rapid-fire pace with some shortening wait times and others requiring fewer chemicals. In 1864, because of the work of Alfred Stieglitz, photography joined the ranks of the other arts.
Today although your telephone probably has thousands of pictures on it, and perhaps because of the ease of taking these images, many photographers are returning to vintage techniques. We'll take a look at some of those techniques without ignoring the obvious proliferation of digital photography.
2020: The Ocean and The Beach
Whether you think there is one world ocean or five oceans, the facts remain the same: salt water covers over 70% of the world's surface and harbors over 200,000 forms of life – that we know about. Like air, it's in constant motion, and like air it's capable of great calm or great destruction. Its depths are unfathomable and mostly unknowable. Ships live at the bottom.
Every year at a certain time the edge of this great body, with all of its unpredictability and immense power turns into the BEACH. Humans go to the beach with nary a thought of tragedy, indeed, they check with weather reports to rest assured of a good day of sun and sand. Riptides are carefully noted, ropes are stretched out, lifeguards are stationed. It's as if we think we could tame the beast.
This exhibition, through watercolors, oil and acrylic paintings, and an exquisite silverpoint drawing explores both phenomena. "By sheer coincidence, this turned out to be an all-woman exhibition and I'm pleased about that," says Ellen Martin, Curator and Director of Art Programming at the Oyster Point. "All but one are New Jersey artists," she continued. "I'm pleased we're able to continue with the phased re-opening of the Oyster Point Hotel by having this art opening," said Kevin Barry, the V.P. of J.P. Barry Hospitality, Inc.
Those artists are Sybil Archibald, Hema A. Bharadwaj, Anzhelika Doliba, Lois Eider, Andrea Geller, Carol Magnatta, Jordan Robinson, Sandy Taylor and Fanelle White, all of whom are first-time exhibiting artists at the Hotel
Please come and see this wonderful work on Friday, July 24th, 2020 from 6 – 8 p.m. at the Oyster Point Hotel. It's free and open to the public. Free parking. Face coverings required. This exhibit will run though Sunday, September 20, 2020. Please visit any time. The Hotel is always open.
We will be holding exhibition tours on Sunday, August 16th and Sunday, September 13th, 2020 at 3:00 p.m. Please meet in the Atrium at the Hotel and have your face covering handy.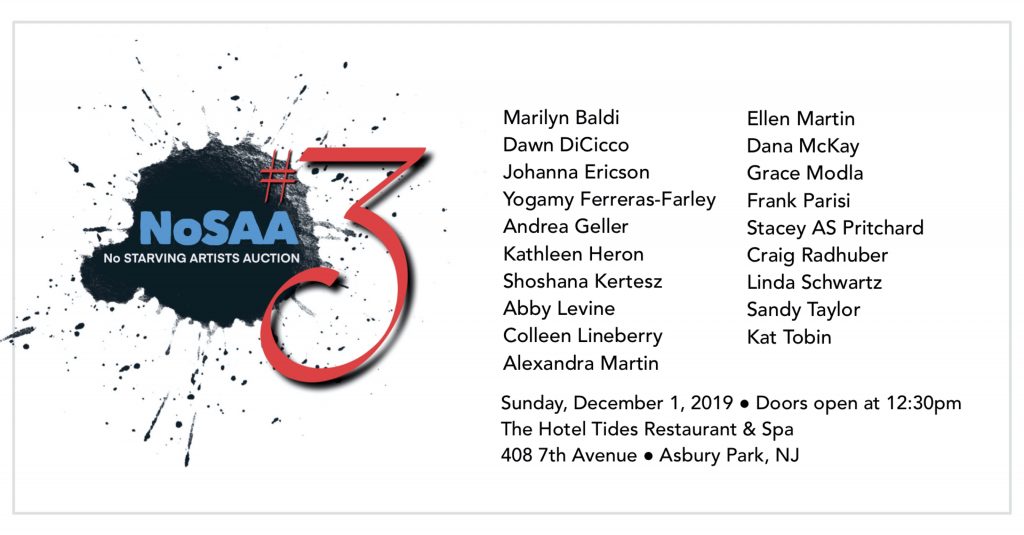 2019: The NO Starving Artists Auction #3
After missing a year, The NO Starving Artists Auction returns to the Hotel Tides for the third time on December 1, 2019. It's a fast-paced event with 78 works of art from 19 New Jersey artists on the block. The preview and silent bidding will start at 12:30 p.m. The live auction will start at 1:30 and end around 3. It's a free event and everyone is invited. Cash bar. Street parking. Hotel Tides, 408 7th Avenue, Asbury Park, NJ, 07712.
There will be a live feed on facebook for phone-in bids. Please call in on 732-668-8880 or 703-868-2833. Google "No Starving Artists Auction #3" to find the event easily.
Founder Ellen Martin says, "Since the bidding on most pieces will start at $50, anyone can buy a work at a very reasonable price to either start or add to their collection. We'll have paintings, photographs, prints and even some sculpture. Art has played an instrumental role in my life, and I hope that everyone can find a piece that moves them. It's also a great way to get some money back to the artists as neither the Hotel nor the organizing team take any commissions."
The participating artists are Marilyn Baldi, Dawn DiCicco, Johanna Ericson, Yogamy Ferreras-Farley, Andrea Geller, Kathleen Heron, Shoshana Kertesz, Abby Levine, Colleen Lineberry, Alexandra Martin, Ellen Martin, Grace Modla, Dana McKay, Frank Parisi, Stacey AS Pritchard, Craig Radhuber, Linda Schwartz, Sandy Taylor and Kathleen Tobin.

2019: Peter Bradley: Beyond the Fields of Color
I'm so pleased to exhibit Peter Bradley's work at the Oyster Point Hotel, working in collaboration with Robert Langdon. Robert is the Owner of Emerge Gallery in Saugerties, NY and Peter's representative. Peter has been working steadily since the 1960's and expands the style of color field painting with the bold use of texture, and color. The paintings are vibrant, sometime discordant and contemporary. We will also be showing three monotypes created by Peter in August, 2019 at the Woodstock School of Art.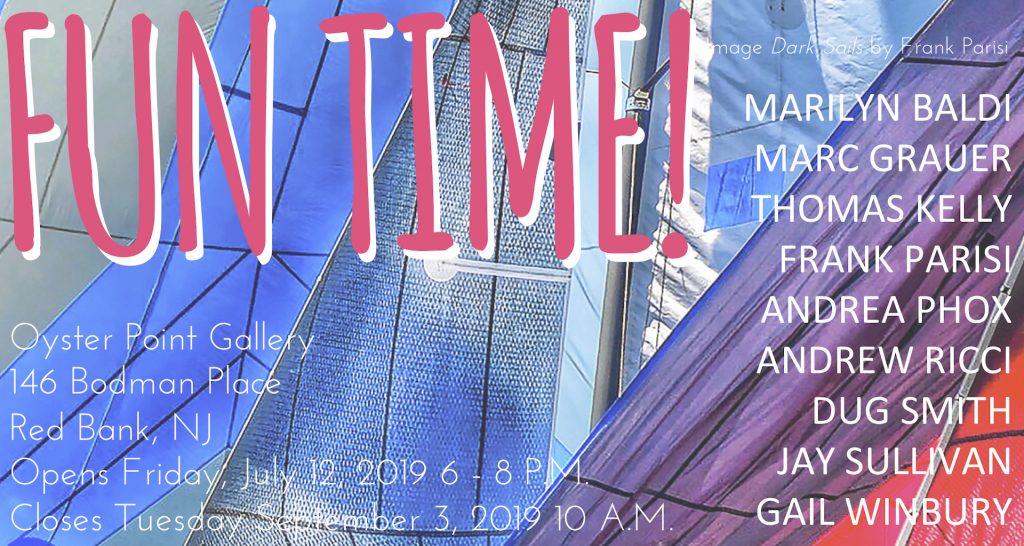 2019: FUN TIME!
Curator Ellen Martin has selected work from ten artists to celebrate the joys of the always-anticipated summer season. Each one of these pieces can bring evoke a wonderful memory or maybe even inspire you to do something new. Some will depict an unexpected way of looking at a familiar activity.
The artists included in the exhibit are New Jersey artists Marilyn Baldi, Marc Grauer, Thomas Kelly, Frank Parisi, Andrea Phox, Andrew Ricci, Linda Schwartz, Dug Smith, Jay Sullivan and Gail Winbury.
The exhibition will open on Friday, July 12 from 6 – 8 P.M., and runs until September 3rd at 10 a.m. It is free and everyone is invited.

2019: 1 + 1 = 1
The creative process is mysterious and magical enough when an artist works on their own, so imagine the possibilities when two or more artists work to create works that are neither of one or the other, but of both. Exhibit closes Sunday, July 7th, 2019.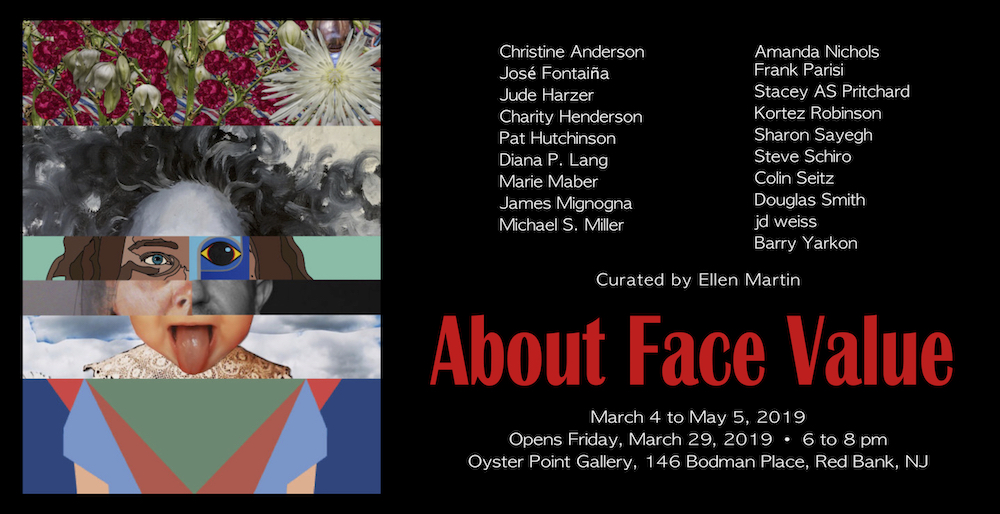 2019: About Face Value
A face is technically the front part of a head, but it is also the facade we present to the public. Each face is the repository of endless expression and emotion. There are billions of faces in the world and they are endlessly fascinating. "About Face Value," an art exhibition curated by Ellen Martin, is an exploration of the human face by nineteen artists working in various media: painting, wall sculptures, analog and digital photography, Adobe Illustrator graphics, and graphite. Most are representational, but some are very abstracted.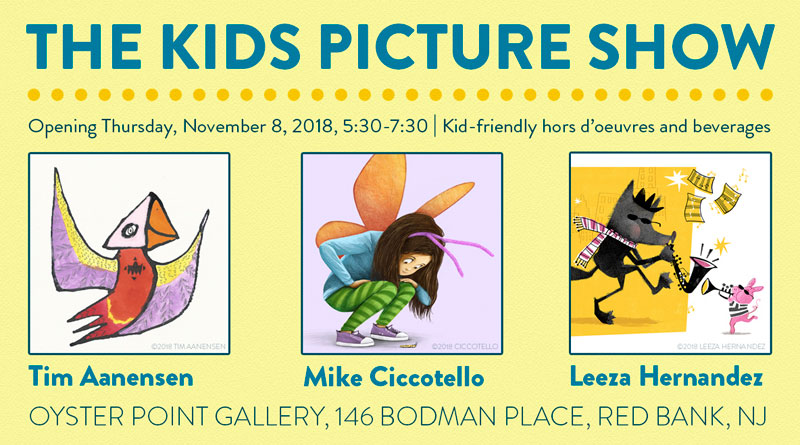 2018: The Kids Picture Show
It is my utter pleasure to present such a joyful exhibit to the community. After a year of putting on more conventional art shows, I thought it would be fun to end the year on a light and happy note. I feel lucky to have the work of established illustrators Mike Ciccotello and Leeza Hernandez in the exhibit. Tim Aanensen is newer to the field but no less talented.
(The exhibit closed January 2, 2019. )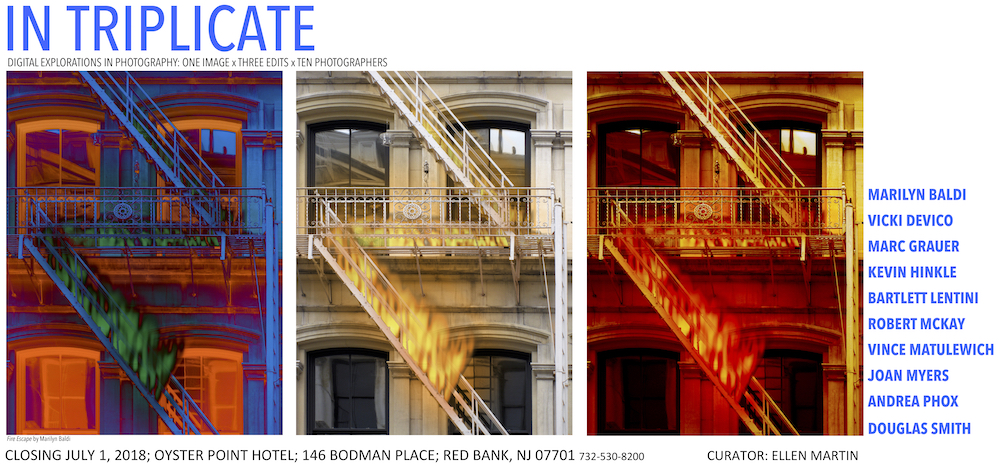 2018: In Triplicate
This exhibition is about process. You look at a photograph and you immediately either like or dislike it. But you don't usually know what went into making that image. By seeing three variations of the same exact image, you can see that the artist behind the lense uses a multitude of techniques to create a final image.
All of the images in this exhibit have been digitally manipulated to create different effects. Some are subtle effects, and some are more pronounced. Some of the images originated in film, but most were digital to start with.
When I issued this challenge, I said, "experimentation and creativity is encouraged." I wanted to take the photographers out of their comfort zones, and expose you, the viewer, to pleasing, interesting or thought-provoking images.
After looking at their images I hope you will gain a greater appreciation of their artistry and the work they put into each and every one of their photographs. I hope you will look more deeply at all images and know that they are the result of hours of pain-staking effort, and much dedication to craft and art.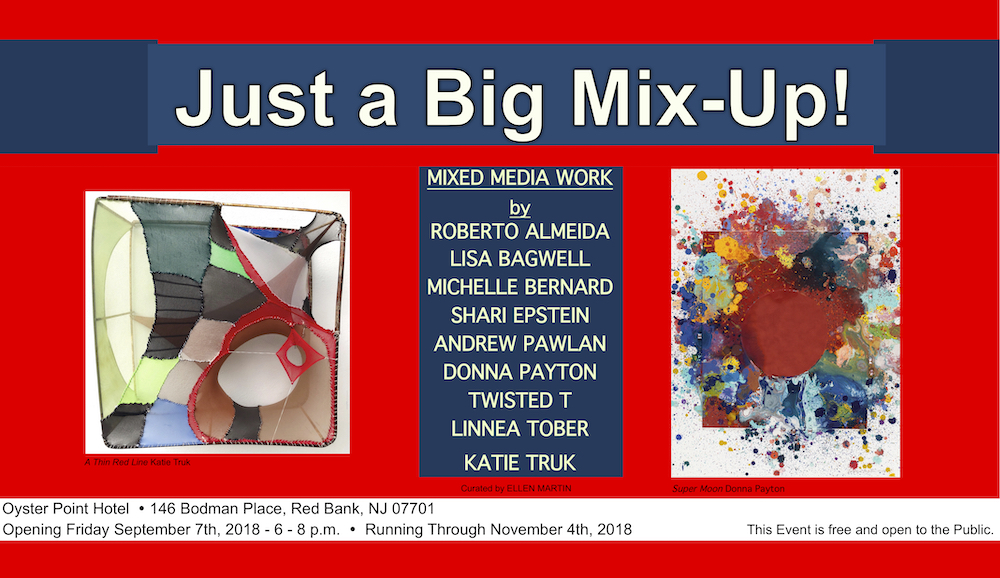 2018: Just a Big Mix-Up!
Creativity abounds in this exciting exhibition of mixed media work. You'll see collages made with the oddest bits of ephemera; surprising pieces made with recycled materials and objects coated with the tiniest seed beads.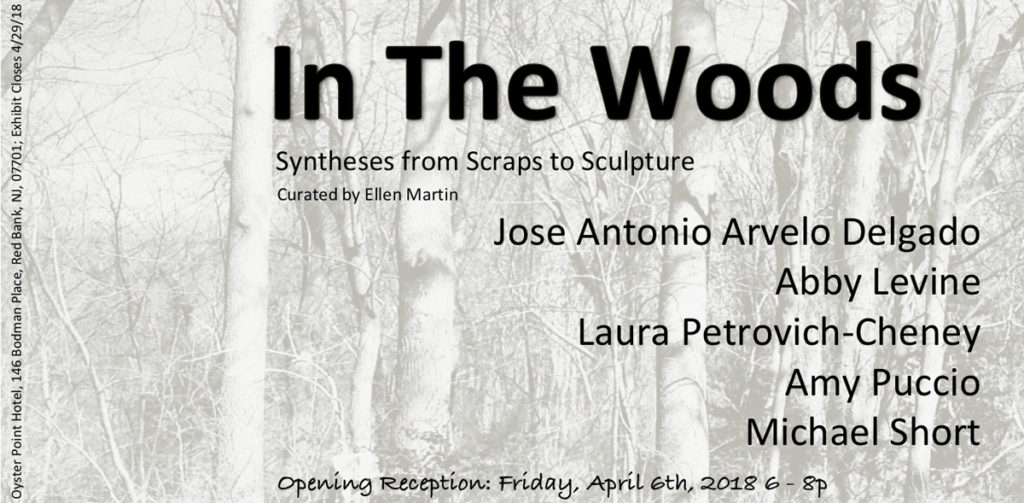 2018: In the Woods
Painters work with a medium that is soft and pliable. They create colors with a simple stroke. Their brush is an extension of their hands and follows every move they make. Artists who work with wood, work in a medium that is hard. They use band saws, handsaws, and sanding machines. They "shop" in demolition sites. Yet within these parameters, these five artists are able to create works as creative, evocative and ideological as any created with paint.
2016: Women Paint Women
"Women Paint Women," is a new group exhibition of paintings by emerging and established artists Karissa Harvey, Kathleen Heron, Pat Hutchinson, Shoshana Kertesz, Sharon Sayegh, Elaine Shor, Elizabeth Sowell-Zak, and Kathleen Tobin.
Ellen Martin, the curator, says, "It was important to me to give women artists a chance to have an exhibit all to themselves to help tip the balance in the male-dominated art world. All of these talented women have produced museum-quality work.
A recent New York Times article talked about all of the current and planned woman-only shows including "Revolution in the Marking: Abstract Sculpture by Women" at Hauser Wirth & Schimmel in Los Angeles," she continued.
"I also wanted to highlight the difference between how women paint women and how men paint women. Yes, it's true that the nude is a staple of Western Art, but that's mainly because men have largely controlled the art world for centuries. Women artists also paint women in a wide range of roles and occupations, from a portrait of Virginia Woolf by Shoshana Kertesz to a black woman archer by Pat Hutchinson to women working in "men's" occupations in Elaine Shor's pieces. And notably, all of these women are wearing clothes."
Shoshana Kertesz, who has painted famous women writers says, "I paint women who inspire me through their strength, sensitivity, creativity and wisdom. I paint women to bring to attention the character behind the facial and physical makeup and the beauty that shines from within. Women come in all emotional and intellectual colors that are unique to them, and I want to emphasize this aspect by foregoing feminine stereotypes."