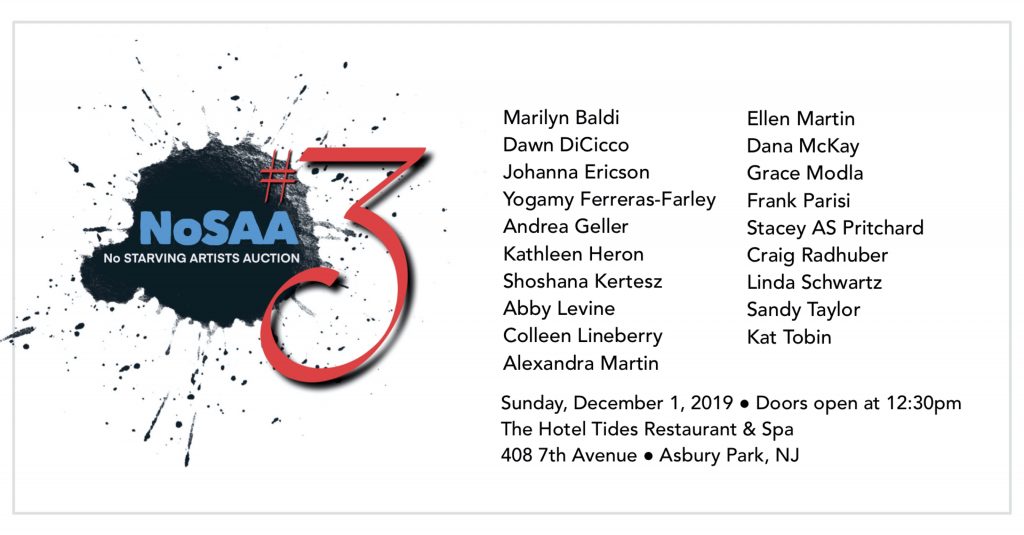 The NO Starving Artists Auction #3
After missing a year, The NO Starving Artists Auction returns to the Hotel Tides for the third time on December 1, 2019. It's a fast-paced event with 78 works of art from 19 New Jersey artists on the block. The preview and silent bidding will start at 12:30 p.m. The live auction will start at 1:30 and end around 3. It's a free event and everyone is invited. Cash bar. Street parking. Hotel Tides, 408 7th Avenue, Asbury Park, NJ, 07712.
There will be a live feed on facebook for phone-in bids. Please call in on 732-668-8880 or 703-868-2833. Google "No Starving Artists Auction #3" to find the event easily.
Founder Ellen Martin says, "Since the bidding on most pieces will start at $50, anyone can buy a work at a very reasonable price to either start or add to their collection. We'll have paintings, photographs, prints and even some sculpture. Art has played an instrumental role in my life, and I hope that everyone can find a piece that moves them. It's also a great way to get some money back to the artists as neither the Hotel nor the organizing team take any commissions."
The participating artists are Marilyn Baldi, Dawn DiCicco, Johanna Ericson, Yogamy Ferreras-Farley, Andrea Geller, Kathleen Heron, Shoshana Kertesz, Abby Levine, Colleen Lineberry, Alexandra Martin, Ellen Martin, Grace Modla, Dana McKay, Frank Parisi, Stacey AS Pritchard, Craig Radhuber, Linda Schwartz, Sandy Taylor and Kathleen Tobin.

Peter Bradley: Beyond the Fields of Color
I'm so pleased to exhibit Peter Bradley's work at the Oyster Point Hotel, working in collaboration with Robert Langdon. Robert is the Owner of Emerge Gallery in Saugerties, NY and Peter's representative. Peter has been working steadily since the 1960's and expands the style of color field painting with the bold use of texture, and color. The paintings are vibrant, sometime discordant and contemporary. We will also be showing three monotypes created by Peter in August, 2019 at the Woodstock School of Art.

1 + 1 = 1
The creative process is mysterious and magical enough when an artist works on their own, so imagine the possibilities when two or more artists work to create works that are neither of one or the other, but of both. Exhibit closes Sunday, July 7th, 2019.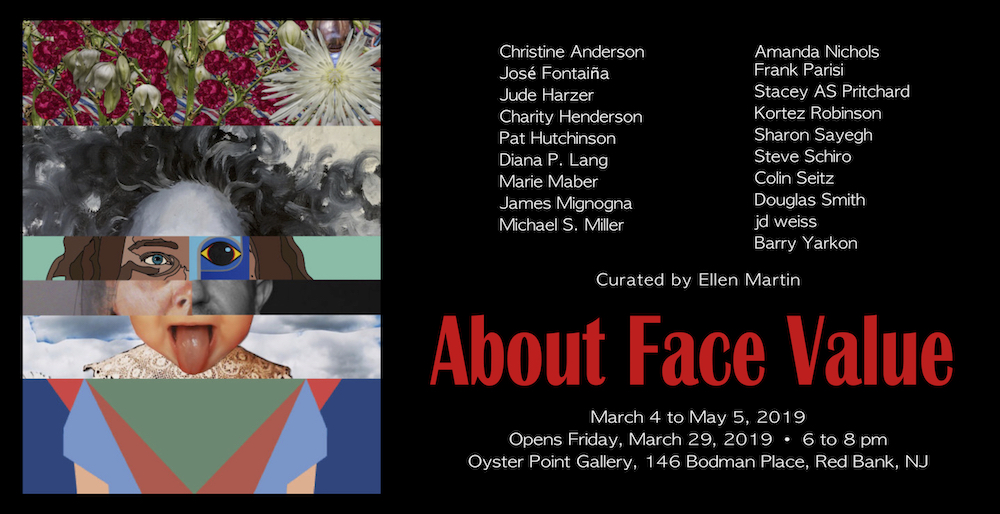 About Face Value
A face is technically the front part of a head, but it is also the facade we present to the public. Each face is the repository of endless expression and emotion. There are billions of faces in the world and they are endlessly fascinating. "About Face Value," an art exhibition curated by Ellen Martin, is an exploration of the human face by nineteen artists working in various media: painting, wall sculptures, analog and digital photography, Adobe Illustrator graphics, and graphite. Most are representational, but some are very abstracted.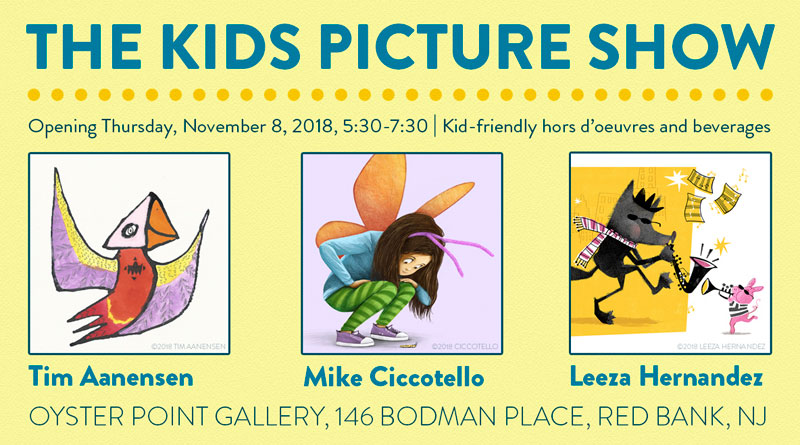 The Kids Picture Show
It is my utter pleasure to present such a joyful exhibit to the community. After a year of putting on more conventional art shows, I thought it would be fun to end the year on a light and happy note. I feel lucky to have the work of established illustrators Mike Ciccotello and Leeza Hernandez in the exhibit. Tim Aanensen is newer to the field but no less talented.
(The exhibit closed January 2, 2019. )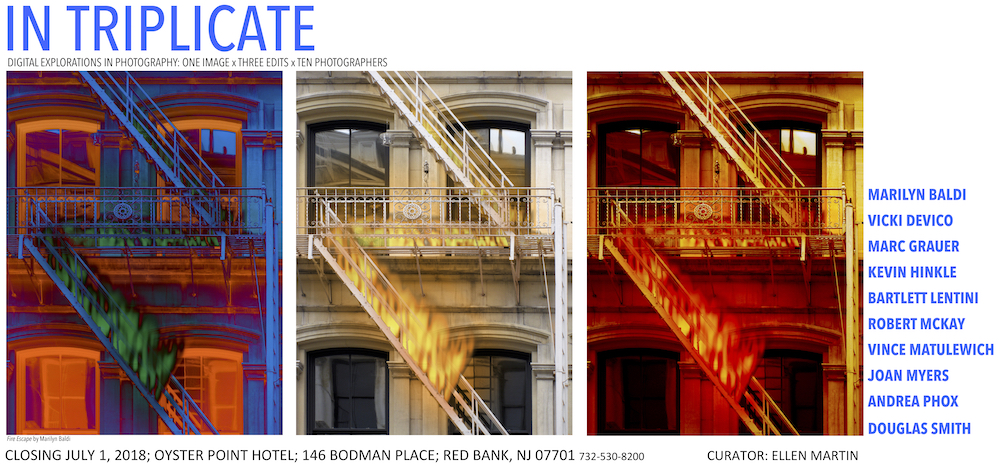 In Triplicate
This exhibition is about process. You look at a photograph and you immediately either like or dislike it. But you don't usually know what went into making that image. By seeing three variations of the same exact image, you can see that the artist behind the lense uses a multitude of techniques to create a final image.
All of the images in this exhibit have been digitally manipulated to create different effects. Some are subtle effects, and some are more pronounced. Some of the images originated in film, but most were digital to start with.
When I issued this challenge, I said, "experimentation and creativity is encouraged." I wanted to take the photographers out of their comfort zones, and expose you, the viewer, to pleasing, interesting or thought-provoking images.
After looking at their images I hope you will gain a greater appreciation of their artistry and the work they put into each and every one of their photographs. I hope you will look more deeply at all images and know that they are the result of hours of pain-staking effort, and much dedication to craft and art.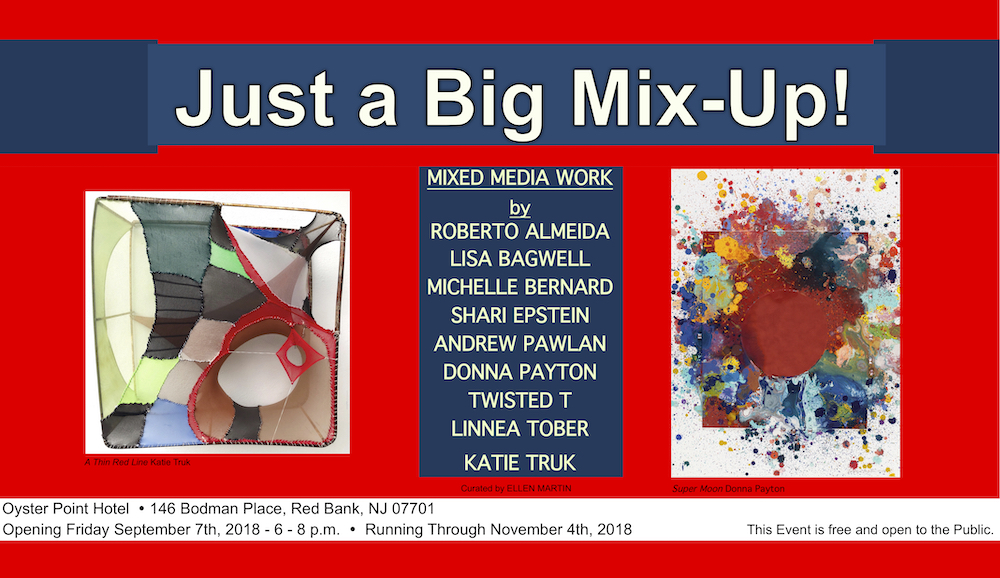 Just a Big Mix-Up!
Creativity abounds in this exciting exhibition of mixed media work. You'll see collages made with the oddest bits of ephemera; surprising pieces made with recycled materials and objects coated with the tiniest seed beads.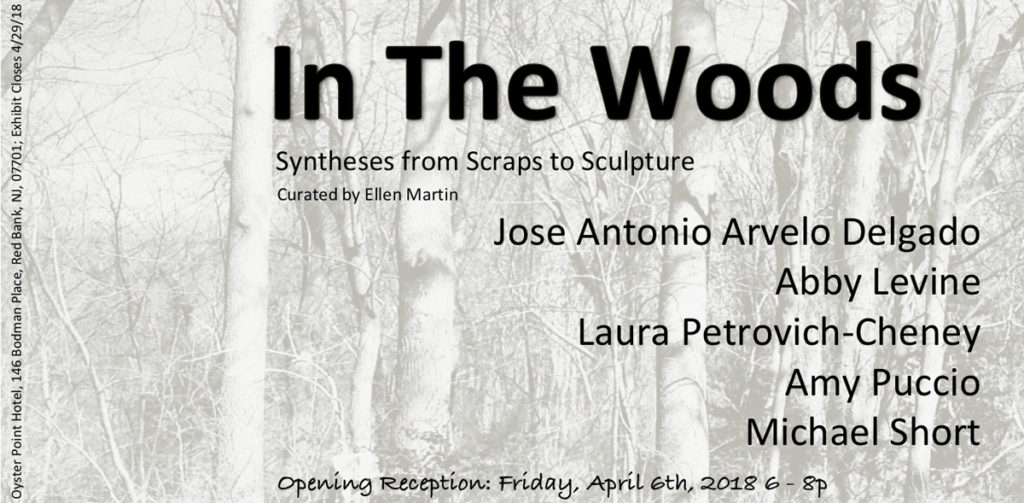 In the Woods
Painters work with a medium that is soft and pliable. They create colors with a simple stroke. Their brush is an extension of their hands and follows every move they make. Artists who work with wood, work in a medium that is hard. They use band saws, handsaws, and sanding machines. They "shop" in demolition sites. Yet within these parameters, these five artists are able to create works as creative, evocative and ideological as any created with paint.
Women Paint Women
"Women Paint Women," is a new group exhibition of paintings by emerging and established artists Karissa Harvey, Kathleen Heron, Pat Hutchinson, Shoshana Kertesz, Sharon Sayegh, Elaine Shor, Elizabeth Sowell-Zak, and Kathleen Tobin.
Ellen Martin, the curator, says, "It was important to me to give women artists a chance to have an exhibit all to themselves to help tip the balance in the male-dominated art world. All of these talented women have produced museum-quality work.
A recent New York Times article talked about all of the current and planned woman-only shows including "Revolution in the Marking: Abstract Sculpture by Women" at Hauser Wirth & Schimmel in Los Angeles," she continued.
"I also wanted to highlight the difference between how women paint women and how men paint women. Yes, it's true that the nude is a staple of Western Art, but that's mainly because men have largely controlled the art world for centuries. Women artists also paint women in a wide range of roles and occupations, from a portrait of Virginia Woolf by Shoshana Kertesz to a black woman archer by Pat Hutchinson to women working in "men's" occupations in Elaine Shor's pieces. And notably, all of these women are wearing clothes."
Shoshana Kertesz, who has painted famous women writers says, "I paint women who inspire me through their strength, sensitivity, creativity and wisdom. I paint women to bring to attention the character behind the facial and physical makeup and the beauty that shines from within. Women come in all emotional and intellectual colors that are unique to them, and I want to emphasize this aspect by foregoing feminine stereotypes."